Due to my introversion, I was always reluctant to get out of my comfort zone, go far away from home, spend money, watch weird faces of my friends, and return back home with a grumpy face.
However, one fine day, my friends told me that we are going for a trip to Northern Areas of Pakistan. They didn't ask, they told. Just to be clear.
I wasn't excited, but I told myself to give it a try just because they were too passionate about it. I know I was just being nice.
So, we contacted the group Exploria for that matter and things settled smoothly.
July 2017, trip begins, we leave Karachi, we meet new awesome people, reached and stayed at Islamabad, had a great dinner at Monal restaurant and a very sound sleep of just 2 hours. Damn!
The actual adventure begins today because now we are heading towards North Pakistan.
6 Travel Destinations that I Found in Northern Area of Pakistan
1. Naran Valley
Naran Valley is more like a welcome to the land of natural beauty.
This is the first most beautiful place you get to see while crossing Khyber Pakhtunkhua province. The tranquility, greenery and sound of lakes were too captivating to be ignored.
Being a Karachite, we could start feeling the cold of Northern Areas and it was fascinating for us, because no wonder, we people are deprived of low centigrade.
Must mention that the hospitality and warmth of people were heartfelt. Such people make you proud of your countrymen.
2. Fairy Meadows
This destination sounds so cool, but reaching that place is not so cool.
Yes, you need to have legs of an athlete, stamina of a tennis player, and persistence of a mosquito; or you could be just a Pathan.
I am not trying to scare you, but if you don't love true adventures, then Fairy Meadows isn't a place for you.
It took us near six hours of consistent trekking to reach destination, but nevertheless, it was all wort
Fairy Meadows is easily the most beautiful place we have seen in our lives. We were at an altitude of about 3,300 meters above the sea level.
There was a strange silence and beauty at that place. How I wish we had stayed bit longer.
3. Beyal Camp
Another piece of heaven was Beyal Camp.
If you ever come to Fairy Meadows, make sure you visit Beyal Camp as well. It requires a trekking of near 40 mins from Fairy Meadows to reach it.
This is unlike the trekking of Fairy Meadows. It had a beautiful and natural walkthrough. There was greenery, water flows, huge trees; in short, it was like crossing a jungle without wolves to eat us up.
One thing I must mention here is to make sure you have good shoes for trekking. Best choice is to have joggers of good quality. Never do a mistake like me by wearing hard caterpillar shoes. They couldn't afford such rough areas and broke in between trekking.
Anyway, have a look at the beauty of Beyal Camp Viewpoint. This place gives you a clear view of world's most fascinating mountain, Nanga Parbat.
4. Eagle Nest View – Hunza Valley
We left for Hunza from Fairy Meadows and stayed there for two nights.
I had heard lots of stories about how cool the place and people are of this place. So we roamed around in the streets, explored the places and met people. However, realized we hadn't heard anything wrong about them.
The best place in Hunza was Eagle Nest Viewpoint. It is famous for the view it gives during sunrise and sunset time. We, of course, went during sunset time. Can't expect to get up early. Jeez.
Here's how it looked. Beautiful, isn't it?
5. Attabad Lake
We were overloaded with natural beauty by this time. We had to experience some scenic water sort place now.
Yes. Attabad Lake, a beautiful lake located in Hunza, where you get to see a clear blue water in between of huge mountains, giving you a soothing experience.
We had a cruise and jetski ride over there. It was refreshing.
6. Babusar Top
While we were on our way back, we had to cross high altitude roads. One of the point is called Babusar Top.
The word 'Top' is there for a reason. While we were crossing that place, we could see ourselves touching clouds. Yeap!
We stayed there for a while. Had some french fries and enjoyed some scenes.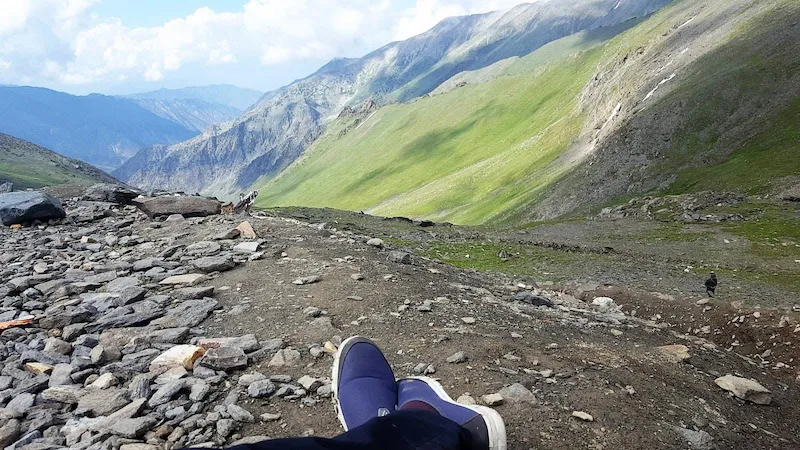 These were six most amazing places I've witnessed so far.
I am sure there is much more to see in this beautiful country, and I am looking forward to see it.
After coming back home, for the first time, I felt listening to my friends was a right thing.
Funny, no?
TIll next time. Ciao!
Muhammad Saad