Hello, guys! We have some splendid news to share with our fellow travelers. We are well aware that exchanging currency when traveling to Pakistan's northern regions can be very stressful for our travelers. However, Exploria is the only travel agency that provides its customers with a currency exchange service.
The enchanting landscape of North Pakistan draws visitors from all over the world to Hunza, where they hope to have an unforgettable experience. The north is a popular destination for tourists who want to take in the region's diverse landscapes, endearing mountains, interesting activities festivities, and mouthwatering traditional cuisine.
For our foreign visitors, however, one small but extremely annoying problem arises while they are on their trip: they arrive in the north with their own currency that they have not exchanged beforehand, which leads to the issue of having to get their money exchanged from the local areas of the north, which, on the other hand, is a very stressful situation given that there are so few money-changing facilities in the area.
Buckle up, don't be afraid, and travel freely! We have got your back. The sole solution to your issue is, our company, EXPLORIA! We, being a tourist agency, also provide you with the assistance of currency exchange as well, along with our other tour package facilities, so that you can take care of this issue without worrying about it during your trip to the north.
Currency Exchanging Facilities in Gilgit Hunza
Below, we've mentioned some additional possibilities you can find in Hunza, in addition to our own business, which we believe, maybe the ideal option for our dear travelers.
1. Alam Money Exchange – NLI Market, Gilgit
The only shop that offers visitors to Gilgit the option of exchanging money is this one. Since the business has been functioning and offering money exchange services for a very long period, its continued operation may not be known. The currency exchange rate is also unknown.
2. Western Union – Aliabad, Hunza
The rates for their services would be fairly hefty, yet this might be the only western union in Hunza available for foreign tourists.
What Does Exploria Offer to Foreign Tourists?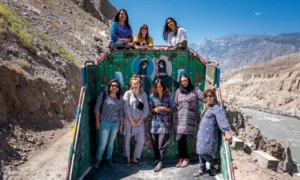 This is a supplemental service provided by our business to amuse visitors and facilitate their comfort. Our business provides these amenities for the convenience of our visitors since we think they should have the satisfaction of their lives while exploring the north.
At Exploria, our company not only provides rates that are lower than those of all the other money exchange businesses in the area that were previously mentioned but also provides assistance right at your door. You can contact us, and we'll send someone to convert your money for you so that you can do it in complete comfort and without having to worry about trying to find a money changer in the neighborhood, which can be a difficult task. You can get in touch with us whenever you need our currency exchange service, whether you're using our company for your tour or some other, we'll be delighted to assist our clients.
For more information, contact us at 03495966540 or send an email to info@exploria.pk.